Electric Motorcycle Team Sets Landspeed Record
Chaparral Motorsports
|
September 3, 2010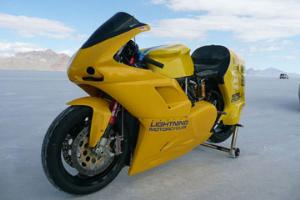 A racing team has set the landspeed record for an electric motorcycle at the famous Bonneville Salt Flats.

Lightning Motorcycles, which competes in the Time Trial Xtreme Grand Prix (TTXGP) built a machine that hit 176 miles-per-hour at one point. Because the official record requires an average over time, the officially clocked time was 173 miles per hour.

The record bested the previous time of 166 miles per hour, which was set by the same team just two days earlier.

The winning vehicle used a modified version of an engine taken from an older General Motors EV1 electric car.

Lightning competes in the TTXGP, also known as the eGrandPrix, a racing series that encourages the development of electric bikes. The team has won enough races to be invited to compete in the upcoming finals in Spain.

The team is planning to release a street bike version of the winning vehicle, which will be stripped of some of the motorcycle accessories on the record-breaking version in order to be both street legal and less expensive.