Dunefest 2011 Preparations Underway
Chaparral Motorsports
|
September 3, 2010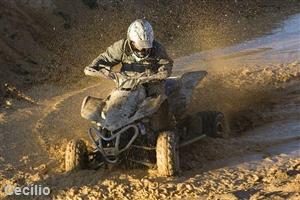 Although Dunefest 2010 just ended, preparations are underway for 2011's event. ATV riders and motorsports enthusiasts might want to consider clearing their calendars, as registration is expected to fill up fast.

The massive event, held in Oregon right on the Pacific Ocean, attracted over 10,000 riders from across the country for five days of fun and various motorsporting events.

In addition to ATV and motorcross events, Dunefest features expansive campgrounds, a drag racing strip, family activities, a charity auction, sand drags, concerts, monster trucks and even a treasure hunt.

Riders can check out the latest ATV accessories and more at Vender Row, while families can head to the track to check out all the races.

But if drivers are worried about keeping the entire family entertained for all five days, they should know that the event features a kid's safe riding area monitored by professionals, in addition to plenty of non-motoring activities, like a drive-in movie night.

The area also features a campground, so riders with a motor home or RV can tow all their equipment and have a spot to stay for the week. Camping areas were sold out last year, so those interested in attending should monitor the registration dates in order to avoid getting closed out when the event begins on August 3rd next year.