Side X Side Buyers Guide
Chaparral Motorsports
|
October 27, 2009
SXS, UTV or RTV whatever you call it, it spells fun and versatile utility. Side X Sides are sort of what would happen if you genetically altered the DNA of an ATV and crossed it with a pick-up truck. Built extremely tough these little wonders will zip you and your gear out to remote hunting areas, to the south 40 to mend a fence or just out for a fast and fun trail ride. Decoding the acronyms: SXS is of course side-by-side; UTV stands for utility terrain vehicle and RTV for recreational terrain vehicle.

Work, Hunt or Play?
Decide what you want in a side by side. Work, play or a little of both?

Play
[caption id="attachment_14505" align="alignright" width="300"]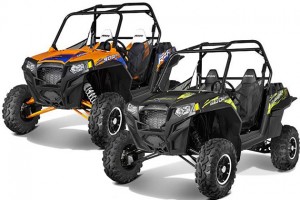 2013 Polaris Ranger RZR XP 900 LE Models[/caption]

Each manufactures makes a version that meets specific needs. Recreational models like the Yamaha YXZ1000R and the Polaris RZR models can reach speeds close to 50 mph. With a restriction governor on utility models, these models are normally restricted to limits of half that speed. Recreational models trade payload and utility for agility and speed. The recreational or sport RTV feature shocks with greater travel that are much stiffer for taking rough terrain at a faster speed. Because much more performance is asked of recreational models, aftermarket companies offer long travel kits that increase the travel of the shocks even further and improves the stability of the RTV. These play units are enjoyed in a variety of activities and terrain. From the unforgiving deserts to the deep woods. RTV's are also raced, both on closed circuit tracks and wide open desert endurance races like the Baja. If you intend to purchase an RTV for sport and take it to its maximum performance, you may want to budget for long travel suspension which can cost anywhere from an additional $800.00 up to well over $6000.00!

Recreational Model Benefits


Extended travel for increased stability

Faster speed for agility and maneuverability

Offroad compliant

Work
[caption id="attachment_22304" align="alignright" width="300"]
2013 Kawasaki Mule 4000[/caption]

If the main purpose for your UTV is to work, then you will want to take a look at the cargo box. Utility units offer storage compartments. Yamaha Viking and Kawasaki Mules have steel cargo storage boxes while the Polaris Ranger series offers rugged composite plastic boxes that won't rust or dent. They range from 350 pounds to over 1000 pound capacity depending on the model. Towing capacity and accessory tool attachments are readily available for utility models.

If you intend to use your UTV for a little work and a little play, you might take a look at the Kawasaki Teryx. Kawasaki designed this model for play and a little work. Although very fast and agile, the Teryx is also equipped with a 500-pound capacity tilting cargo bed that is ideal for recreational users, yet versatile enough for work and hauling with tie down hooks in all four corners. It comes with a cargo net to keep the goods secure. The Teryx can also pull the load with its 1200-pound towing capacity. It is a very nice balance between a work and a play vehicle.

There are many options and after market products to enhance your UTV. A cab roof can keep the hot sun or the cold rain off your head. Front windshields are nice and can cut down wind chill in winter. If you hunt often in cold conditions you might consider a canvas or steel cab. Also, if you hunt, consider a gun scabbard to safely transport your firearm and keep it protected from the elements.

Utility Model Benefits


Extended cargo capacity

Work horse power output

Utility and recreation possible

2X4 or 4X4
[caption id="attachment_22307" align="alignright" width="300"]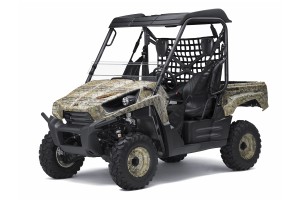 If you intend to use your UTV for a little work and a little play, you might take a look at the Kawasaki Teryx 750 4×4, it was designed for play and a little work.[/caption]

Will your UTV spend its life on ranch roads, farm lanes or generally flat terrain? If this is the case the standard 2X4 should work well for you and runs about a grand less. If you intend to do some cross-country off trail exploring or running through mud and snow, then the 4X4 is the way to go. Be sure to get a 4000 lbs winch if you intend to do some severe trail exploration. A UTV weighs considerably more than an ATV and can often be impossible to manhandle when stuck.

When selecting a SXS for hunting, consider the payload of the vehicle and the type of terrain in which you hunt. If your favorite hunting spot is remote, consider upgrading to 4X4 and purchasing a winch. There are also many optional hunting accessories available to enhance your hunting UTV, such as firearm boots and racks, bow racks, cab enclosures, swivel chairs and power loaders for loading and transporting deer or other game. Many UTV's are also available in popular camouflage patterns like Advantage Max-4™ and Real Tree™.

So whatever your requirements are and whatever it is you decide on, you are in for the time of your life. The UTV/RTV has exploded on to the offroading scene and they have brought a payload of family fun that can be enjoyed much more when riding side by side.