By browsing, you consent to our

use of Cookies

.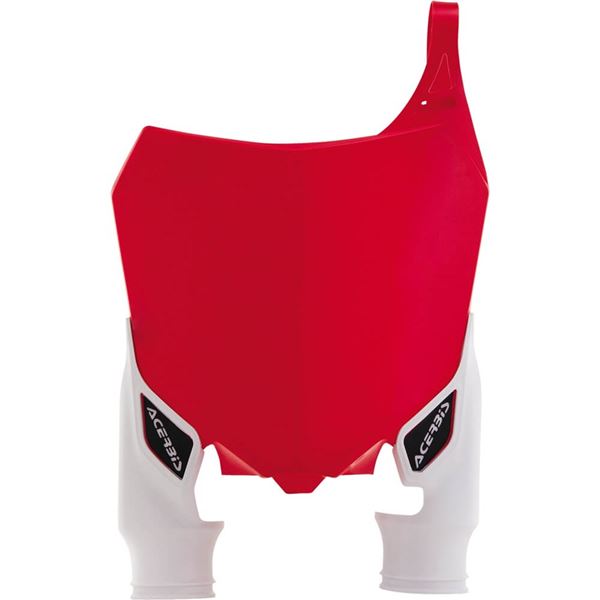 Free Shipping Over $75

Low Price Guarantee

No Hassle Returns

A classic is brought back. The Raptor front number plates provide additional protection to the upper forks much like the classic inverted fork number plates of old.
Made from polypropylene similar to the X-Seat
Number plate are dual injected synthetic rubber lowers
Provides additional protection to the upper forks
Note: Image for reference only. Actual product may vary according to vehicle.
Want better durability in a number plate? This one is made of sturdy polypropylene. It also has synthetic rubber lowers that are dual injected. Looking for a custom color? You will be pleased by the wide selection of colors available.
Specifications
SKU
257-268942-1006
Brand
Acerbis
Frequently Bought Together

California Prop 65
WARNING: Cancer and Reproductive Harm - www.P65Warnings.ca.gov
Part Numbers
| | SKU | MPN | Availability | In-Store Pickup |
| --- | --- | --- | --- | --- |
| Blue/White | 257-268942-1006 | 268942-1006 | 10+ In Stock. Ready to ship. | 2 In Stock. |
| White/Blue | 257-268942-1029 | 268942-1029 | 10 In Stock. Ready to ship. | 2 In Stock. |
| Yellow/White | 257-252739-1182 | 2527391182 | 4 In Stock. Ready to ship. | 4 In Stock. |
| Yellow/Black | 257-252739-1017 | 2527391017 | 3 In Stock. Ready to ship. | 3 In Stock. |
| White/Red | 257-263077-1030 | 2630771030 | 2 In Stock. Ready to ship. | 2 In Stock. |
| Black/White | 257-263077-1007 | 2630771007 | 2 In Stock. Ready to ship. | 2 In Stock. |
| Red/White | 257-263077-1005 | 2630771005 | 2 In Stock. Ready to ship. | 2 In Stock. |
| White/Green | 257-252743-1050 | 2527431050 | 2 In Stock. Ready to ship. | 2 In Stock. |
| Black/White | 257-252743-1007 | 2527431007 | 2 In Stock. Ready to ship. | 2 In Stock. |
| Red/White | 257-252741-1005 | 2527411005 | 2 In Stock. Ready to ship. | 2 In Stock. |
| Black/White | 257-252740-1007 | 2527401007 | 2 In Stock. Ready to ship. | 2 In Stock. |
| Green/White | 257-252743-1075 | 2527431075 | 1 In Stock. Ready to ship. | - |
| Green/Green | 257-252743-0006 | 252743-0006 | 1 In Stock. Ready to ship. | - |
| White/Orange | 257-252742-5412 | 2527425412 | 1 In Stock. Ready to ship. | - |
| Orange/White | 257-252742-5321 | 2527425321 | 1 In Stock. Ready to ship. | - |
| Black/White | 257-252742-1007 | 2527421007 | 1 In Stock. Ready to ship. | - |
| White/Red | 257-252741-1030 | 2527411030 | 1 In Stock. Ready to ship. | - |
| Black/White | 257-252741-1007 | 2527411007 | 1 In Stock. Ready to ship. | - |
| White/Blue | 257-252740-1029 | 2527401029 | 1 In Stock. Ready to ship. | - |
| White (20) | 257-279147-6811 | 279147-6811 | Unavailable. | - |
| White | 257-279147-0002 | 279147-0002 | Unavailable. | - |
| Black | 257-279147-0001 | 279147-0001 | Unavailable. | - |
| Yellow/Black | 257-268976-1017 | 268976-1017 | Unavailable. | - |
| Yellow | 257-268976-0005 | 268976-0005 | Unavailable. | - |
| Black/White | 257-268942-1007 | 268942-1007 | Unavailable. | - |
| Blue/Blue | 257-268942-0003 | 268942-0003 | Unavailable. | - |
| Red | 257-263077-0227 | 2630770227 | Unavailable. | - |
| White | 257-252743-0002 | 252743-0002 | Unavailable. | - |
| Black | 257-252743-0001 | 252743-0001 | Unavailable. | - |
| Orange (16) | 257-252742-5226 | 2527425226 | Unavailable. | - |
| White | 257-252742-0002 | 252742-0002 | Unavailable. | - |
| Black | 257-252742-0001 | 252742-0001 | Unavailable. | - |
| Blue/White | 257-252740-1006 | 2527401006 | Unavailable. | - |
| Blue/Blue | 257-252740-0003 | 252740-0003 | Unavailable. | - |
| White | 257-252740-0002 | 252740-0002 | Unavailable. | - |
| Black | 257-252740-0001 | 252740-0001 | Unavailable. | - |
| Yellow/White | 257-252739-0231 | 252739-0231 | Unavailable. | - |
| White | 257-252739-0002 | 252739-0002 | Unavailable. | - |